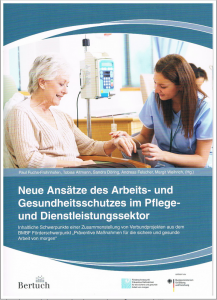 As part of the funding priority "Preventive measures for the safe and healthy work of tomorrow" of the Federal Ministry of Education and Research, a number of research and development projects are looking at new approaches to occupational health and safety in the care and service sector.
While the funding priority as a whole considers the topic of "Work 4.0" particularly from the point of view of increasing digitization and develops corresponding prevention strategies in the focus on "Industry 4.0", among other things, this brochure presents the work of a focus group of collaborative projects from the care and service sector, which sees digitization as just one development trend among several.
For in this sector, too, only positive ideas for Work 4.0 and good concepts and examples of successful prevention can meet the challenge of attracting the large number of skilled workers needed for the future and ensuring that they remain in jobs and employment.

You can order the brochure here.